Welcome to Cleanroom Laundry Professionals!
a unique service provider within the Clean Room industry.

Cleanroom Laundry Professionals offers our customers:
High quality and reliable service
Competitive prices
Prompt delivery and collection
Specialized processing of lint-free, anti-static laundry in a Clean Room Environment.
Suppliers of lint-free, anti-static clean room garments.
Secondary laundry service for the processing of  general purpose items.
Clean-down and decontamination/disinfection/sanitation service.
A training program for clean room personnel.
QUALITY POLICY:
It is the policy of Cleanroom Laundry Professionals to supply our customers with a service that meets and exceeds expectations.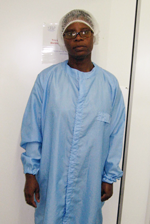 We are committed to ensure that our garment laundry and associated
services add value for our customers, by offering the facility of an affordable and professional service.

Service excellence and customer satisfaction are our prime concern.
We are committed to ensuring that the integrity and high ethical standards of Cleanroom Laundry Professionals are maintained at all times.